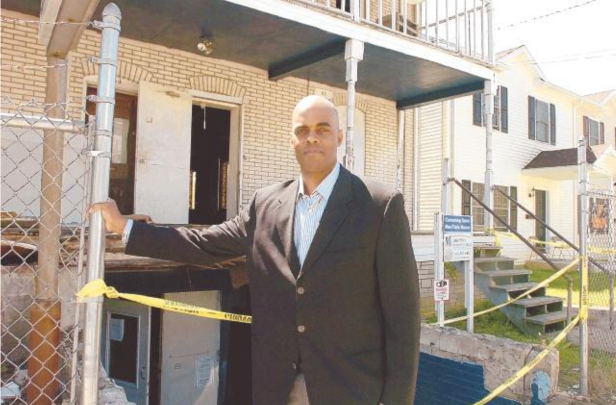 Daily Local Article
Elks Lodge to Become 6 Rentals


By DANIELLE LYNCH, Staff Writer

COATESVILLE
– A local investment company purchased the former Elks Lodge and plans to renovate the building into six apartments for low-income residents. Michael Maupin of Mautiste Investment Group said his company bought the Elks Lodge in the 600 block of Merchant Street because his company owns other nearby properties.
As part of the renovation, Maupin created a home-ownership program, Learn to Own. "It's a self-sufficiency program and encourages economically and socially disadvantaged families in the Chester County region to prepare for financial independence," Maupin said. "There is a decent subset of people in affordable housing who want to better themselves but don't know how." Maupin noted applicants must meet specific qualifications to enter the program. Qualified applicants will have a portion of their rent matched by the program in exchange for contributing a minimum amount toward rent, which is based on monthly income. The program will then place a predetermined amount of matching funds in escrow for 18 months to three years. "It's not (the residents') money until they graduate from the program, and then they can use that money to put toward a down payment for a home," Maupin said. In addition to teaching program participants about home ownership, they will also learn about diminished dependence on state assistance funds; personal credit improvement; personal and family budgeting proficiency; and home maintenance awareness.
The company began the renovation project in mid-April. Renovations should be done in four to six months. In the meantime, Maupin said he is working with several nonprofits regarding the Learn to Own program. The completed project will have six three-bedroom apartments with two apartments on each floor of the building, Maupin said. The property will have an electronic gate and rear parking. Maupin said his company is renovating a building that was formerly a "crime cesspool." The Elks Lodge shut down last fall. Before its closure, it lost its liquor license then operated under a "bring your own beer" system. A shooting was reported there last August, according to police. Maupin's company purchased the lodge last October from Mount Vernon Elks Lodge No. 151 for $50,000. The renovation project will cost about $500,000, he said.